If you're feeling down or you just had a bad day, a nice treat – such as a butter tart – can turn that frown into a smile. This traditional Canadian dish is one of the most comforting dishes because of all that goodness and deliciousness packed in one bite. So get these Butter Tart Recipes to heal your soul!
What are Butter Tarts?
Butter tarts are little pastries known to have been an evolution of another traditional dish, the sugar pie. Butter tarts were a common pioneer dish and was known to have originated in Barrie, Ontario during the 1900s.
A good butter tart recipe basically has butter, sugar, syrup, and egg. Then, it is filled into a flaky pastry and baked until the filling is semi-solid with a good crying on top.
But as time passed and the butter tart recipe got passed down to generation after generation – most Canadians have made their own versions of the traditional recipe.
Here are some butter tart recipes you can try at home:
Award-Winning Butter Tarts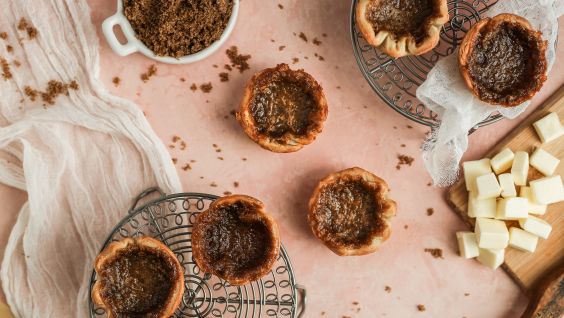 This award-winning butter tarts recipe published on food.com holds all elements of a good butter tart and balances them so well. It's a simple and basic recipe that anyone can enjoy as a snack or a dessert. Here is the recipe:
Ingredients:
pie pastry (enough to fill 16 muffin cups, your own or from a mix)
1⁄2 cup raisins
1⁄4 cup soft butter
1⁄4 cup packed brown sugar
1 pinch salt
1⁄2 cup corn syrup
1 egg, lightly beaten
1⁄2 teaspoon vanilla
Preparation:
Prepare muffin pans by rolling out pie dough and cutting 4-inch (approx) circles; fit dough circles into muffin cups; set aside in fridge until ready to fill.
In a small bowl, place raisins and cover with hot tap water; let stand on the counter for 30 minutes.
In a large bowl, using a wooden spoon, mix together the soft butter, brown sugar, salt and corn syrup; stir well until sugar is dissolved and butter is creamed.
Add egg and vanilla and mix well.
Drain raisins.
Retrieve tart shells and divide raisins equally into all shells; then divide butter mixture into all tarts.
Bake at 400F for 15-20 minutes; filling will be lightly browned but still bubbling.
Canadians fall into two camps about butter tarts and are quite loyal to their favourite type: runny or firm.
I like runny– the type that dribbles when you bite into one; if you like firm, bake them for the full 20 minutes, even adding another minute or two if you wish.
Let cooked butter tarts cool in pans for 10 minutes after removing from the oven; then remove and place on racks until completely cool.
Get more information about this recipe here.
Pecan Butter Tarts
Are you already feeling that chilly weather of fall? If you are then it's time to start looking at fall dishes that you can make including this incredible pecan butter tarts recipe published on Food Network. It's delectable and comforting flavors can really prepare you for the new season. Here is the recipe:
Ingredients:
Two-Crust Pie Dough
2 ¼ cup cake and pastry flour
2 Tbsp sugar
¾ tsp salt
1 cup cold unsalted butter, cut into pieces
6 Tbsp cold water
1 Tbsp lemon juice or white vinegar
Butter Tarts
½ cup unsalted butter
1 cup packed dark brown or demerara sugar
2 large eggs
½ cup maple syrup
1 Tbsp lemon juice
1 tsp vanilla extract
¼ tsp salt
½ cup lightly toasted pecan pieces
Preparation:
Two-Crust Pie Dough
Stir the flour, sugar and salt to combine in a bowl or using a stand mixer fitted with the paddle attachment. Cut in the butter by hand with a pastry cutter or on low speed until just small pieces of butter are visible and the mixture as a whole just begins to take on a pale yellow colour (indicating that the butter has been worked in sufficiently).
Stir the water and lemon juice together and add this to the dough all at once, mixing until the dough just comes together. Shape the dough into 2 discs, wrap and chill for at least 2 hours before rolling. Alternatively, the dough can be frozen for up to 3 months and thawed in the fridge before rolling.
Shape into 2 logs and chill.
Butter Tarts
Preheat the oven to 400 F and lightly grease a 12-cup muffin tin. Pull the chilled dough from the fridge 20 minutes before rolling.
Cut each of the logs of chilled pie dough into 6 pieces. Roll each piece out on a lightly floured work surface to just under a ¼-inch thick and use a 4 ½ inch round cookie cutter to cut each into a circle. Line each muffin cup with the pastry so that it comes about ½-inch higher than the muffin tin, and chill the lined tin while preparing the filling.
Melt the butter and brown sugar in a saucepan over medium heat, stirring until the mixture is bubbling. Remove the pot from the heat.
In a separate bowl, whisk the eggs with the maple syrup, lemon juice, vanilla and salt and slowly pour in the hot sugar mixture while whisking constantly until incorporated. Sprinkle a few pecan pieces into the bottom of each tart shell and ladle or pour the filling into each shell.
Bake the tarts for 10 minutes at 400 F, then reduce the oven temperature to 375 F and bake for an additional 10-15 minutes, until the filling is bubbling and the crust edges have browned. Cool the tarts in the tin and after about 5 minutes, carefully twist them around in the pan to prevent sticking and keep them in the pan until completely cooled.
The butter tarts should be stored refrigerated but are best served at room temperature. The tarts can be stored chilled for up to 3 days.
Get more info on this recipe here.
Both of these recipes take an elegant spin on the butter tart and what's more exciting is you can make them at home! It's time to wake your inner professional chef and make a butter tart that can heal the soul!
For more food insights and recipes, click here.