There is nothing richer and satisfying than the well-balanced flavors of homemade chocolate dessert. Chocolate is amazingly one of the most misjudged ingredients in the world. Despite being branded as something unhealthy, with the right chocolate dessert recipe, it can be part of a healthy diet.
But, why is chocolate so celebrated that it's iconic to various holidays? It's pretty much because its sweet and lovely taste can appeal to everyone regardless of age or race.
Plus, chocolate has a lot of varieties. You'd go straight to thinking about the sugar loaded chocolate bars in the stores branded with colorful wrappers but, there are other kinds of chocolate with different flavor profiles depending on how they're made: the proportions of its composition, and the form they are in.
Nevertheless, the chocolate is a well sought-after ingredient and can be treated as an elegant classic flavor versatile enough to accommodate any dish.
Here are a few chocolate dessert recipes you should try:
Chocolate Zucchini Muffins (Vegan)
This may be one of the weirdest recipes you could find for chocolate but trust us, perfecting this dish is one of the best things you can try.
Aside from tasting so delectable, they are also packed with nutrients making it a good snack for the health conscious.
But when you make a batch, you might not even be able to stop eating them because of how well the flavors and textures balance each other out.
Nanaimo Bars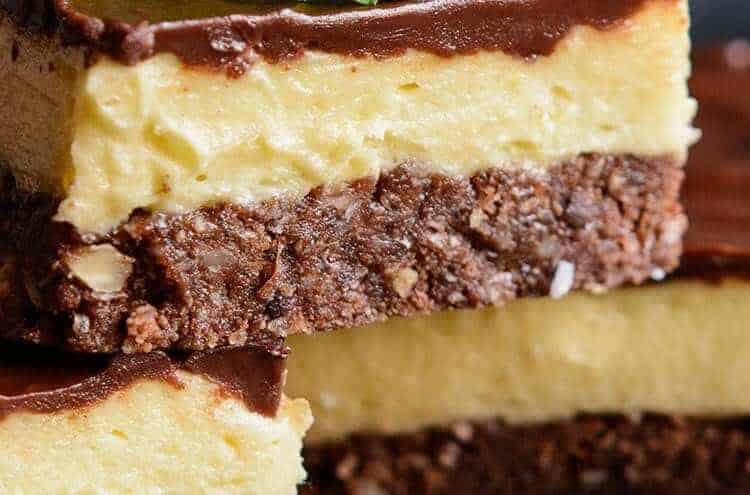 A true Canadian classic and delicious dessert, this nanaimo bar recipe can bring out the best in your chocolate and elevate its flavors with that buttercream custard.
It is pretty much easy to make but yields incredible taste that you won't stop chomping down on more. Also since it's pretty simple, you can try different varieties of chocolate until you find that irresistible sweet spot that'll solidify your own personal twist on a canadian classic.
Chocolate-Cardamom Cheesecake
This Chocolate cake recipe is one that you can serve at a fancy dinner party and proudly say that you made it. The creaminess of the cake will bring out that remarkable sweetness of the chocolate yet balance it out with cardamom – making it an elegant yet comforting dessert.
You can also try incorporating various flavors to spice it up but remember – sometimes, less is more. Give this chocolate dessert recipe a try and build on that to create your own recipe.
The notion of chocolate dessert recipes can easily make the mouth water and trigger cravings! So, time to put on that apron and work the kitchen like a professional chef. With some practice, you'll be able to make your own chocolate dessert recipes!
For more food recipes, inspiration, and insight, click here.